WordPress Migration Services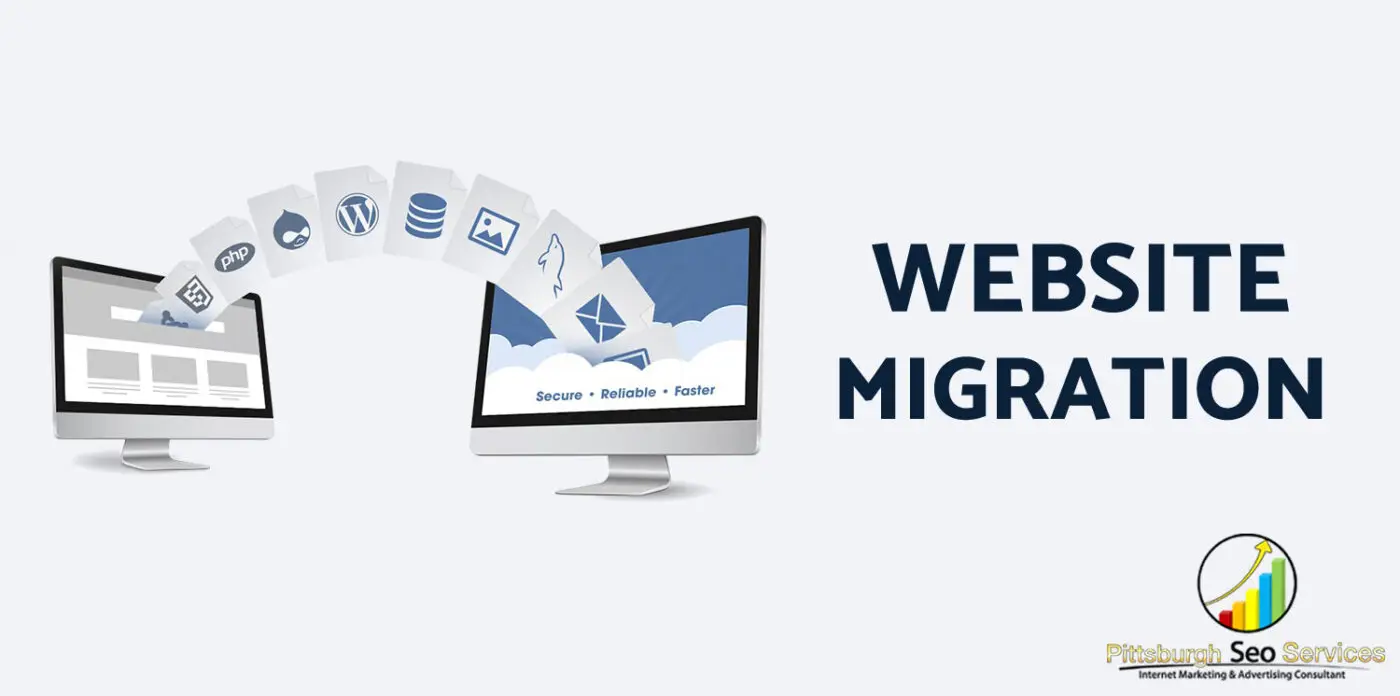 Best WordPress Migration Services
Is your current web hosting no longer meet your needs? Perhaps you want a more reliable, professional service. You might also find that your site has outgrown its current server environment. Migrating WordPress can seem like a daunting task. However, you don't have to do it alone. WordPress migration requires a lot of work, but our service will take away the day-to-day stress of managing your new site.
PITTSBURGH SEO SERVICES' website migration service is geared towards those who want to migrate their entire WordPress website to a new hosting provider. We oversee the process from start to finish, and can even revive your site all for one price!
PITTSBURGH SEO SERVICES's WordPress Migration Services include:
If you would like to migrate your website from another platform over to WordPress, we can help. We will ensure that the migration process is seamless and with as little downtime as possible.
Sitecore to WordPress
Drupal to WordPress
Joomla to WordPress
Blogger to WordPress
Squarespace to WordPress
WordPress to WordPress Multisite
Django CMS to WordPress
Proprietary CMS to WordPress
Why it is important to consider WordPress site migration?
As your site grows and becomes more popular, you may find that your current hosting plan can't meet the new demands.This is often a sign that you need to migrate your website.
Here are some of the reasons why you might want to migrate your WordPress site.
The powerful WordPress security system helps to protect your site from hackers. It's especially important if your site contains sensitive data, such as customer data.With the current state of security, you may want to keep your site and data safe by migrating it to a more secure environment.
Additionally, fast-loading pages can improve your website's usability and help you achieve better results for conversions.If you're having lots of issues with downtime, it might be time for a website migration service.
Typically, large sites require more maintenance than smaller ones. If you can't handle everything on your own, a third-party service may be able to help by doing some of the work for you – like web migration services.
Migrating your WP site to a new server can be difficult and time-consuming. Unlike DIY migration, it's the full support of an expert team of WordPress experts that will make the process quick and easy. It also leaves you with more time to spend on growing your business rather than figuring out a migratory process.
More flexibility and resources:
Some server environments are more restrictive than others. If your current resources can't support your site, you may need to migrate it to a new server. This is typical for sites that have grown popular and experience periods of high traffic.
If you need to scale your company, we recommend that you use WordPress migration services to move your website. This will give you more control over your new server and the opportunity to install custom software for better site performance.
PITTSBURGH SEO SERVICES Approach for A CMS Migration to WordPress:
When you need website services, we have a plan that will help make the process as quick and painless as possible.
We'll go over any difficulties you are facing with your current website and take note of what your new WordPress website's requirements will be. This process ensures that all our expectations are met, ensuring the final outcome is exactly what you had in mind.
Our team will get all the information needed to create a detailed and comprehensive plan for your migration. We'll consider your website's content, features, and functionalities as well as the given timeframe.
Once the PITTSBURGH SEO SERVICES team and the client's team have agreed on a migration plan, we will start the migration process immediately. We'll follow a detailed schedule while backing up data and media to get things ready for the move.
Delivery is a very important part of any migration project. We want to meet your expectations and ensure you're fully satisfied before we hand over the new website. To do this, we conduct complete testing beforehand to make sure everything works as intended.
Our support does not end with delivery. When you purchase our services, we offer website maintenance to help make sure your website is running at its best and you can focus on other important business activities. We do analyses to find potential problems, and bugs and fix them.
Why choose PITTSBURGH SEO SERVICES for WordPress Migration?
We have experience in a variety of migrations. All of our experts support over 20 different platforms for WordPress migration, making it easy for you to choose the best option.
We're experienced and expert in our field:
We're skilled at transferring both Magento and WooCommerce sites to WordPress. Our team of developers has decades of experience, and they spot the minute details that are often essential to ensuring a successful migration.
We follow a step-by-step process, breaking migration into small and manageable pieces to ensure that it is smooth and complete.
We deliver personalized service:
We know that you want your company to stand out by offering unique features and quality service. We can help you achieve that goal with our customized migration tailored to your needs.
We'll work on our server to build your new site with WordPress. Not only will we help you migrate your existing site, but this ensures 100% uptime and visibility to your users. Our migration process is fast, reliable, and guarantees that you'll have the same high-quality website as before.
Data security is an important issue that we take very seriously. PITTSBURGH SEO SERVICES never compromises your data, and our WordPress database migration tool will ensure security continues to be maintained throughout the process. We copy all of your site's data to the new site, but keep the data integrity at 100%.
Our end-to-end migration process guarantees a seamless transition for you and your team. Our expert SEO consultants use the Agile Methodology to make sure the migration is completed on time with no hiccups.
The migration process doesn't have any effect on your rankings. Once the migration is over, rankings will only improve for both you and the new site. Our tech experts are constantly keeping the search engines "informed" about any changes, so your ranking remains the same after the migration.
Manual WordPress Website Migration:
We, at PITTSBURGH SEO SERVICES, have a team of WordPress experts who ensure that your website is well-migrated before launch. We use manual techniques and advanced technologies to transition your data while testing 100% of the migration process. With our understanding of your personal data and its integrity, we assure you it will be in good hands.
Get started with WordPress migration services offered by PITTSBURGH SEO SERVICES Now!
If you have any questions about WordPress site migration, we encourage you to get in touch with us. We'll be happy to answer any other questions about web migration services too.