Identifying location vs. market
Location is where a business is located. Market is where a business's customers and competitors are located.
Successfully marketing a local business depends upon seeing its location and market the way Google does, and of even greater importance, the way the brand's customers do. Mapping this out is critical to your marketing journey.
In planning and marketing each location of a business, you need to understand local consumer demand and how consumers voice that demand online. Keyword tools and practical market research are on your side when it comes to helping assess and fulfill local needs.
To get started in analyzing a market you'll need an idea of who the customer is, a list of local needs, product/service keyword phrases, and a clear picture of the competitive geography.
Follow these steps to achieve valuable market intelligence.
First, find out who the customer is
Each business possesses a unique level of insight into its customers. An independent, single location business may have simply operated on the innate intelligence of its relationships with long-time customers. Larger operations may invest in advanced research to build formal customer personas. Resources for this area of work differ from business to business.
If little or no work has been done to identify buyer personas, the basic data you want to amass typically looks like this:
Metrics like age, stage of life, language, education, and buying power

Interests and online habits

Pain points on the buyer journey

Goals
You have a variety of options for learning more about the most common customers, including:
Polling the email base of the brand

Researching via the profiles of social media followers

Interviewing the staff at each location to discover what they've observed

Using the demographic data within Google Analytics to amass user metrics

Using customer persona generator software
Whether or not you go to the lengths of building formal buyer personas, marketing begins with knowing who you're marketing to, and being able to make statements roughly like:
The average customer at location X of brand X is X age, with X buying power, X interests, X pain points on their buyer journey, and hangs out at X online.
Once you have this information in mind, you'll know where to go to begin polling the local customer base for more in-depth data on the specific needs of a community.
Second, employ all available local observational powers
If you're the business owner of the locations, your first-hand knowledge of your locales is extremely valuable. If you're an agency marketer helping a local business and can get highly engaged clients to help you with gathering this information, it can provide advanced intelligence to help form your marketing strategy. Try to assemble as many details as you can about the following:
1) Poll the customer base you've identified in your customer persona research to gauge desire for a specific offering. Test the waters by asking strategic questions about local demand in multiple places and of multiple people, including these:
Nextdoor

Facebook

Twitter

Instagram

Local fora (Craigslist, community hubs, local newspapers, etc.)

Industry fora (agricultural, manufacturing, retail, etc.)

Buy Local associations

Chambers of Commerce and other business associations

Local government bodies and officials

A formal focus group

Friends and family

Local reporters and bloggers

Successful local business owners in the community
Almost anything a community says it lacks is worth investigating, so polling the local customer base with questions like these is a good start:
What closed businesses do you miss most?

What is it hardest to find here?

What is hardest to find here late at night?

Do you have to drive too far to get X goods/services?

What businesses would make this community better/more convenient?

What's the most inconvenient thing about living/shopping here?

What's the nicest thing a business ever did for you?
2) Make a list of which businesses have recently succeeded and failed in the communities. Consider model, location, offerings, reputation, and other features that might have contributed to the success or closure of these companies. Pay special attention to businesses in the same industry, but don't overlook brands with even a minor relationship if their model appears to be contributing to their success or failure.
3) Look back in time to see how a community supplied and sustained itself over the past century. Local public libraries or historic societies may have valuable archives depicting the state of commerce in a particular geographic market. The movement for increased local sustainability is growing, and services like food delivery — which were a longstanding norm that briefly disappeared — have returned. Consider whether a business location can create a strong offering by reviving an almost-forgotten convenience that could potentially become popular again. Drive-thru service, curbside pickup, home delivery, and many other features are old models that have become "new" again.
4) Map out the most essential goods and services a community needs to sustain itself both in good times and during periods of emergency. See where the business might tie in within your map of local essentials, keeping it relevant and operational in fluid conditions. Here's a sample map to inspire you, and if you'd like more help with this step in the process.
Next, fire up keyword research tools
Now that you've got a list of the local needs a community has expressed, combine it with a list of the goods and services the business offers. Also include any key phrases that make up the unique selling proposition (USPs) of the business. The business might have the lowest prices, the best pool of experts, be the oldest in town, be family-friendly, be Black-owned or women-led, be the recipient of local awards, be open late, have a large inventory, or a convenient location. The combination of all these terms and attributes are what you'll be entering into your choice of keyword research tools.
For example, a business may be offering healthy food. A community may have expressed that there are a lack of options for "late night healthy food". You can research both the product phrase and the longer tail phrase about demand for the product late at night.
Most keyword research tools cannot accurately assess exact local search volume at the town or city level. If you're marketing in a major metropolis like Los Angeles or New York City, you'll have more luck than if you're in a small, more rural area. Because of this, standard advice is to investigate keywords first without using geo-modifiers like city names, neighborhood names, or ZIP codes.
There are many good paid keyword research tools. Check out Moz Keyword Explorer, which will give you a ton of data about national supply and demand.
Popular free keyword and trending topic tools include:
Answer the Public

Google Adwords Keyword Planner

Google Trends

Google Rising Retail Categories
When using any keyword tool, be sure you're bringing local and regional awareness to the work. In a large country like the United States, there can be significant lexical differences in how regional groups refer to the same item (e.g. "soda" vs. "pop" vs. "coke"). You may already be aware of special local terminology for the business's inventory of goods and services.
You've completed this step of the work when you have assembled a refined list of keywords, based on consumer demand tied to business offerings, along with the search volume estimates indicating which phrases could drive most transactions.
Next, gauge Google's definition of a town or city
Now it's time to establish where the location sits in relationship to Google's concept of city borders. First, go to Google, do a search for the town or city name where the business is located, and click on the map. Notice the red borders that delineate Google's concept of your target town or city.
Why does this matter? Because if a business location is situated even a little bit outside of Google's borders, it typically makes it harder to rank for searches being conducted within that city or that use that city's name in their search language.
Beware of the Possum!
It's almost always best for businesses to have a physical location within the community they plan to serve, but sometimes a new location is being opened and proposed locales must be carefully researched. This is the time to beware of the Possum filter associated with a 2016 Google algorithm update. Possum strengthened the filtering out of businesses in close proximity to one another and that share the same Google categories. Filtered businesses appear to be absent from Google Maps until you zoom in one or more levels.
Because of Possum, any business planning to open a new location should try to avoid co-location, or even proximity, within a block or two of any competitor sharing the same Google categories, if possible.
In extreme scenarios in highly competitive markets, businesses can find themselves forced to relocate inside the borders or to new buildings to get themselves into an easier ranking scenario.
Next, identify and analyze the local market
Your goal for this step is to discover what Google is showing potential customers standing at or near a place of business. This scenario of customers in proximity to a business defines your market.
This advanced research tactic will yield the most accurate strategic data if you're willing to invest some sweat equity into the work ahead. If possible, you want someone at each location to be willing to put their feet on the street and conduct searches from their place of business, and ideally, from several locations around their city. This is the ideal approach.
However, if that's not possible your next best choice is to use a paid or free location emulator tool that approximates local and organic rankings for different ZIP codes or cities.
Take your keyword list and begin searching Google for the most important terms. Take note of two things:
1) For each keyword phrase, click through on the local pack to see the radius Google is casting on the map for that search term. For example, a customer standing in downtown Eureka, California might be shown this set of mapped results for the search "sporting goods store":
The distance to which Google is willing to go to make up a set of local results will change from keyword to keyword. Note down the top competitor in the radius that Google is setting for each of your most important searches. This is the competitor you will be working to match and surpass for each keyword phrase.
2) At the same time, look at the first 1-2 pages of Google's organic results for your most important search terms to find the top direct local competitor and the top non-local online resources.
For example, if you're marketing a sporting goods store, then another sporting goods store in the same city is a direct, local competitor. Note them down. But, also take note of websites like Yelp, or local online news sites, or blogs ranking highly for your desired terms. Some entities may be too strong to outrank, but may present opportunities for inclusion.
Each local business will differ in its ability to devote resources to this research. The greater the number of resources, the more vital intelligence will be gained about what customers in a market are actually seeing when they search, and which are the top competitors and opportunities in each market.
Google is continuously testing and tweaking its platforms. Rankings can literally change from hour to hour because of this. There are multiple exceptions to every rule of thumb when it comes to Google, but it's generally safe to say that the greater the competitive level in your market, the harder you will have to compete for all types of visibility, and that your chances are best of being discovered by the customers closest to you. It's also evident that Google's plan is to monetize as many of its interfaces as extensively as possible.
Keeping this in mind, the moment you start competing for visibility, you'll begin wondering how high you can rise for each of your most important search phrases. Every ranking scenario is unique, but for most businesses, strategy will look something like this: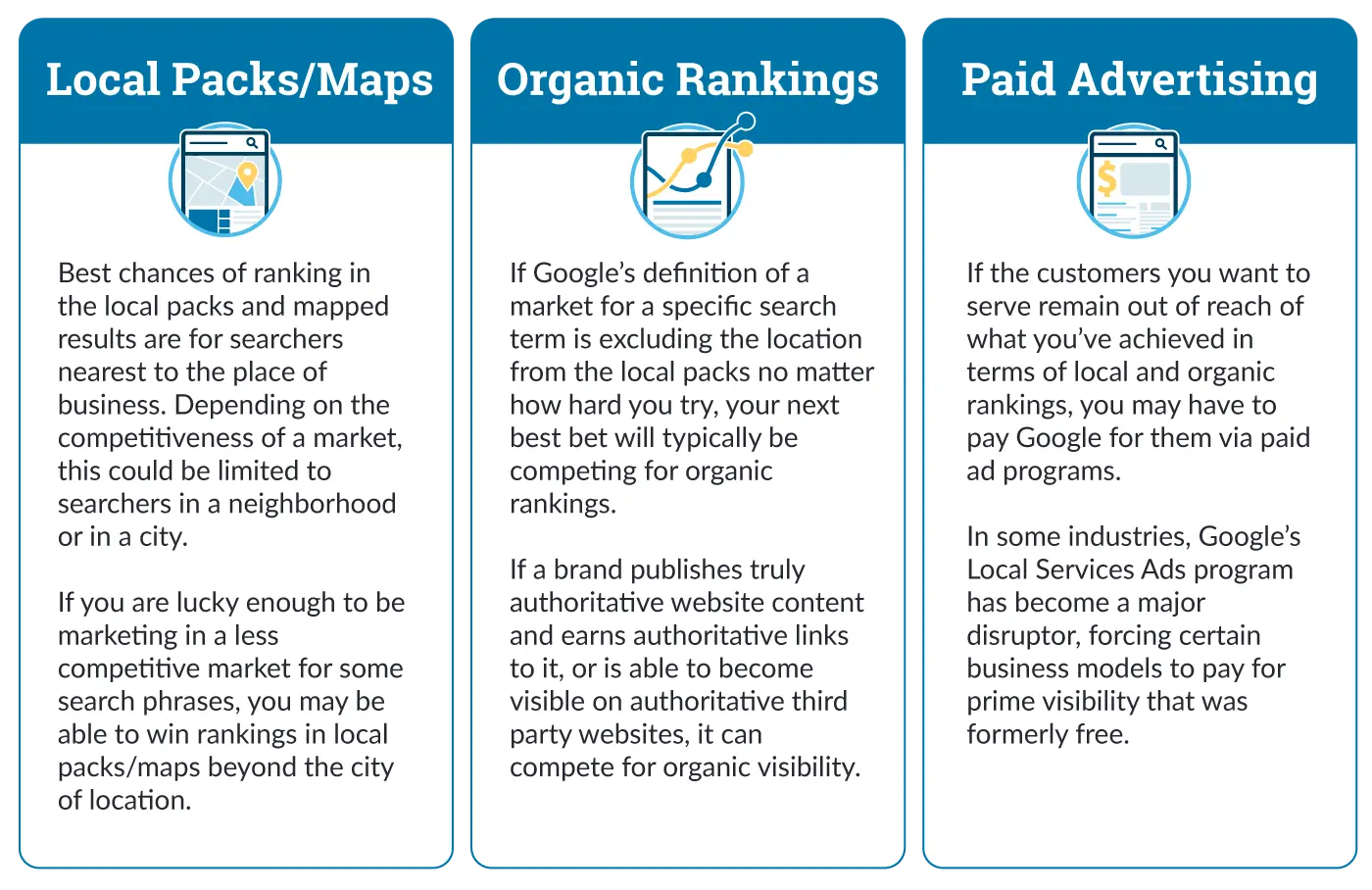 Finally, assess the strengths of the top competitors in each market
By now, you've assembled a list of the competitors ranking in target markets for your core terms. Now, it's time to assess the strengths and weaknesses of the top competitor for each search phrase. This will help you understand the lengths you'll need to go to in order to help the business compete with and then surpass the top-ranked businesses.
Make a copy of this free, basic local business competitive audit spreadsheet and take these three actions:
1) Go through the process of filling out a sheet for each search phrase.
2) For each entry where there is a clear win for the competitor, note it in the wins column.
3) Once you've filled out the sheet, make note of all the elements in which the competitor is winning. This creates your strategy for the areas the business must improve to match and then surpass the competitor's wins to become stronger than they are, and hopefully begin outranking them.
Note: There will be cases where a business location is already matching or surpassing a competitor on most or all of the fields in the spreadsheet. On paper, it becomes a mystery as to why the location isn't doing better. Consider this a red flag that there may be an underlying technical problem, filter, suspension, or some hidden issue holding the business back. Mysterious ranking problems that emerge from this type of audit typically signal the need for deeper technical analysis.