Everything a brand does should support just one goal: better local customer service. Brand reputation and revenue will rise or fall based on the customer service you provide.
Because customer service and satisfaction are so fundamental to success, you need to assess them as a core component of any complete local SEO campaign.
Customer service strategy
Successful local businesses put customers and their problems at the absolute center of the brand's strategy.
In modern times, customer service is so much more than the face-to-face interactions of one staffer with one shopper. Rather, it's a commitment to becoming an always-on resource that is accessible to people whenever, wherever, and however they need it. A Google rep was recently quoted as saying that 46% of searches have a local intent. Mobile search, combined with desktop and various forms of ambient search, have established the local web as man's other best friend — the constant companion that's ever ready to serve.
Here's how to position the brand to become that faithful helper by establishing benchmarks for success within the local customer service ecosystem: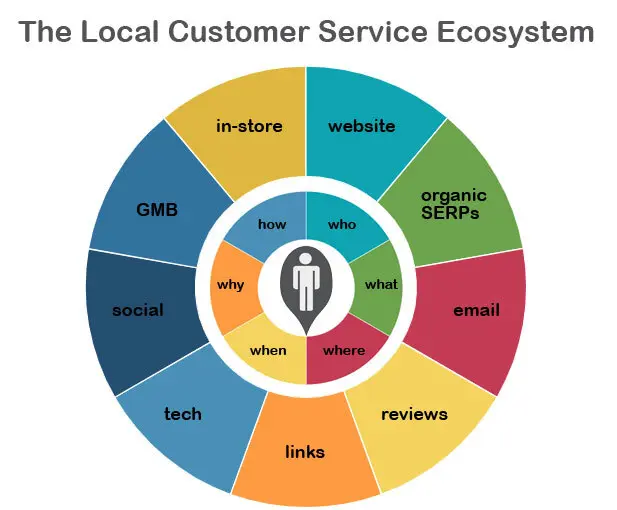 Key to the Local Customer Service Ecosystem
At the heart sits the customer, who wants to know:
Who can help them, who likes or dislikes a business, who's behind a brand, who's the best, cheapest, fastest, closest, etc.

What the answer is to their question, what product/service solves their problems, what businesses are nearby, what it's like there, what policies protect them, what's the phone number, the website URL, the email address, etc.

Where a business is located, where to find parking, where something is manufactured or grown, etc.

When a business is open, when sales or events are, when busiest times are, when to purchase specific products/services or book an appointment, etc.

Why a business is the best choice based on specific factors, why a business was founded, why people like/dislike a business, etc.

How to get to the business by car/bike/on foot, how to learn/do/buy something, how to contact the right person or department, how to make a complaint or leave feedback, how the business supports the community, etc.
Assess whether customer service efforts are solving all of the above problems with a combination of all of the following:
In-store
Good customer service looks like:
A publicly accessible brand policy that protects the rights and defends the dignity of both employees and consumers.

Sufficient numbers of well-trained phone staff with good verbal skills, equipped to answer FAQs and escalate problems they can't solve.

Sufficient numbers of well-trained consumer-facing staff who are easily accessible by customers, and well-versed in company policies, products, and services.

In-store signage (including after-hours messaging) that guides consumers to voice complaints in person, reducing negative reviews.

In-store signage/messaging that promotes business commitments most beneficial to the community (philanthropy, environmental stewardship, etc.) to promote loyalty and word-of-mouth.

Cleanliness, orderliness, and fast resolution of broken fixtures and related issues.

Equal access to all facilities with an emphasis on maximum consumer comfort and convenience.

Support of payment forms most popular with local customers (cash, check, digital, etc.), security of payment processes, and minimization of billing mistakes/hassles.

Correctly posted, consistent hours of operation and clear messaging regarding special hours/closures.

A brand culture that rewards employees who wisely use their own initiative to solve customers' problems.

In times of emergency, in-store may need to become curbside pick-up, drive-thru, delivery, or teleservice, with abundant communication on how the business is keeping customers supplied and safe.
Website
Good customer service looks like:
Content that solves customers' problems as conveniently and thoroughly as possible in the language that they speak.

All published content (including the home, about, contact, local landing pages, etc.) is useful for consumers.

Equal access to content, regardless of device.

Easily accessible contact information, including name, address, phone number, fax, email, text, driving directions, maps, and hours of operation.

Signals of trustworthiness, such as reviews, licenses, accreditations, affiliations, and basic website security.

Signals of benefit, including community involvement, philanthropy, environmental protections, etc.

Click-to-call phone numbers.

Clear policies that outline the rights of the consumer and the brand.
Organic SERPs
Good customer service looks like:
Management of the first few pages of organic SERPs to ensure that basic information is accurate. This includes structured citations (aka local business listings on local business platforms), unstructured citations (mentions) on blog posts, news sites, top 10 lists, review sites, etc. It can also include featured snippets.

Monitoring the SERPs for highly-ranked content that cites problems people are having with the brand. If these problems can be addressed and resolved, the next step is outreach to the publisher to demonstrate that the problem has been addressed.
Email
Good customer service looks like:
Accessible email addresses for customers seeking support.

Fast responses to queries.

Opt-in email marketing in the form of newsletters and special offers.
Reviews
We'll dive deeply into the topic of reviews in this guide, but at a glance, good customer service relating to reviews looks like:
Accuracy of basic business information on major review platforms.

Professional and fast responses to both positive and negative reviews, with the core goal of helping and retaining customers by acknowledging their voices and solving their problems.

Sentiment analysis of reviews, by location, to identify emerging problems at specific branches for troubleshooting and resolution.

Monitoring of reviews for spam, and reporting it where possible. Avoid any form of review spam on the part of the brand.

Where allowed, guiding valued customers to leave reviews to let the greater community know about the existence and quality of your brand.
Links
Good customer service looks like:
Linking out to third-party resources of genuine use to customers.

Inbound link building from relevant sites that expand customers' picture of what's available in the place they live, enriching their experience.

Internal links within the website that guide the customer through resources in a sensible, meaningful way.
Tech
Good customer service looks like:
Website usability and accessibility for users of all abilities, and on all browsers and devices (ADA compliance, mobile-friendliness, load speed, architecture, etc.).

Apps, tools and widgets that improve customers' experience.

Brand accessibility on social platforms most favored by customers.

Analytics that provide insight without trespassing on customers' comfort or right to privacy.
Social
Good customer service looks like:
Brand accessibility on social platforms most favored by customers.

Social monitoring of the brand name to identify and resolve complaints and acknowledge praise.

Participation for the sake of community involvement rather than exploitation, i.e. sharing instead of selling.

Advocacy for social platforms to improve their standards of transparency and their commitment to protections for consumers and brands.
Google Business Profile (formerly Google My Business)
Good customer service looks like:
Embracing all elements of Google's local features (Google Business Profile, Maps, etc.) that create convenience and accessibility for consumers.

Ongoing monitoring for accuracy of basic information.

Brand avoidance of spam, and also, reporting of spam to protect consumers.

Advocacy for Google to improve its standards as a source of community information, including accountability for misinformation on their platform, and basic protections for both brands and consumers.
Any business that has mastered the customer service ecosystem is far along the reputation journey, but now it's time to climb two tall mountains: reviews and affinity.
Reviews impact local rankings and conversions (customers choosing the business). Affinity comes through in how well a brand aligns with the aspirations of its customers.
Helping a local brand scale these two peaks will call for bringing its best and most authentic self into the business world, knowing it's doing so in the public view. Meeting goals of serving the public depends on how the brand walks this walk.
Sound daunting? Yes. But with the right attitude, any business can do this!
Reviews
In the local business context, "reviews" are user generated content (UGC) left by consumers on third-party review platforms or on brand websites. Some examples of platforms that host reviews include Google, Yelp, and Facebook, but there are many, many such sites.
While each platform is unique, reviews can include:
Text

Ratings in the form of stars, bubbles, or other icons

Review attributes like "professionalism" or "responsiveness"

Auto-generated place topics aggregated by a search engine like Google, showing words commonly associated with a business

Photos

Videos

Owner responses
A typical review on Google looks like this:
Any member of the public with a Google account can leave a star rating, choose from available review attributes, and write a textual summary of their experience. They can also upload photos and videos. Business owners can respond, and Google publishes overall ratings, review counts, and pulls place topics from review content.
Studies show that the majority of consumers read reviews and associated owner responses, and that over a quarter of local online searches happen with the intent to read business reviews.
Moreover, while only a tiny fraction of customers will take the time to voice a problem in a review, most are happy to continue buying from a business that solves their problems. And, in terms of meeting business goals, about half of customers will only choose businesses with a rating of four or more stars, and increases in star ratings and review counts have been proven to increase leads and revenue.
In analyzing and creating a review strategy, the winning combination is the development of the most consumer-centric business offline, coupled with a commitment to actively ensure a brand's good name is mirrored and safeguarded on the web.
These are the five practical steps a business can and should take on this journey:
1. Actively invite private complaint resolution
Multiple surveys over many years indicate that customers do not expect local brands to have a perfect 5-star rating. In fact, many consumers view spotless reputations as somewhat suspicious. Most businesses will receive some negative review sentiment at some point, but this should be kept to a minimum level.
The best way to avoid complaints ending up online is to make every effort to prompt customers to resolve issues with staff directly — in person, via email, chat, direct messaging, or by phone.
Consider recommending and adopting these strategies:
Train all public-facing employees to ask customers if they are satisfied. Empower them to resolve any complaints that they can at the time of service, or swiftly and effectively escalate problems to the right staff member.

Post in-store and storefront signage telling customers how to let staff know if they have a complaint during or after normal business hours. This could include a text message number, phone number, email address, or website URL for customer service.

Create a visible request-for-help form on the website.

Gather customer email addresses at the time of service and follow up quickly to ask customers to share whether their experience was positive or negative. Respond speedily to resolve any negative sentiment.

Document all complaints in writing for analysis. A cluster of similar complaints suddenly emerging at a location of your business may indicate a serious problem that needs to be addressed.
2. Actively acquire reviews in compliance with guidelines
When marketing a local business, your high-level goal is to have a modest, constant stream of reviews being published on the review platforms that matter most to customers and to your brand. Too few, and a business looks neglected. Too many in too short a time, and a business looks spammy, causing search engines like Google to become suspicious and filter some reviews out of their platform.
Most review platforms, with the infamous exception of Yelp, permit you to request reviews from customers so long as you aren't offering any type of incentive in exchange, and are not specifying that the customer must leave a positive review. To avoid filtering and public shaming, always read any available guidelines of any review platform on which you'd like to ask a customer to review a business. Here are the links to the guidelines of six major review sites:
Reviews should be acquired on a variety of platforms. These include:
General platforms like Google, Yelp, and Facebook

Industry-specific platforms like TripAdvisor or Healthgrades

First-party reviews, gathered directly from your customers for publication on your website
A variety of tactics can be used to request reviews, including:
Direct asks at the time of service

In-store or storefront signage inviting reviews

Content and/or widgets on your website requesting reviews

Email/text requests shortly after service

Use of dedicated review software, like GatherUp
Practice intentionality in all review requests. Ask customers about a particular aspect of their experience with the business. Use core keyword phrases in your request in hopes that the reviewer will echo back those words, building the brand's relevance for priority terms.
A frequently asked question in SEO forums comes from business owners wondering how many reviews, total, they need. The simple answer is that the business needs more reviews than its top competitors, but try to think of this as a long-distance run, rather than a sprint. Avoid any tactic that solicits a glut of reviews in bulk all at once, and pace acquisition efforts with the understanding that each business will be seeking fresh reviews throughout its lifetime.
3. Actively respond to all reviews
Most review platforms enable brands to respond to the reviews they receive. These three simple pieces of advice support success with owner responses:
Respond as quickly as possible with thanks to all positive reviews, and respond even faster to negative reviews.

Remember that reviews are a two-way conversation, providing the chance to transform a bad customer experience into an excellent one that wins the customer back, and that may inspire them to edit their review to reflect a positive, second experience with a brand.

Reviews are not just for the business and a single customer to read — they are for the entire review-reading public to peruse. How a brand presents itself in responding to negative reviews signals to all consumers how well it will treat them if they experience a problem. Always show that the business treats customers wonderfully!
Positive reviews
When responding to positive reviews, it's easy to simply thank the customer for taking the time to offer praise. But it's a better strategy to avoid being generic. Instead, find different ways to word thanks, and where possible, go the extra mile to further engage the customer.
For example, if a customer lauds a brand's selection of trail mix, voice gratitude, and then share a tidbit or related information — like the location adding five new varieties this month, including some extra good protein bars the staff gobbled up when they took them on a hike. It's an advanced tactic to make your review responses interesting.

Negative reviews
Responding to legitimate negative reviews is the steeper climb. The initial goal is to demonstrate responsiveness and professionalism when a customer complains. The ultimate goal is to respond so well to their problem that the customer is retained, and with a little luck, impressed enough to edit their review, raising its star rating and amending its text to reflect their new satisfaction.
Moz conducted a small study to discover the secrets to negative review transformation, with these findings of the elements that led a consumer to edit their review:
70 percent of customers mentioned poor service/rude service rectified by a second experience in which staff demonstrated caring.

64 percent mentioned how the owner/manager/staff proactively and directly reached out to the customer with a remedy.

32 percent mentioned item replacement or a job re-done for free.

20 percent mentioned a customer deciding to give a business a second chance on their own, and ending up better-pleased by a second experience.

6 percent mentioned a customer realizing the fault for a misunderstanding was theirs.
Given that even a modest rise in overall star ratings can yield amazing improvements in revenue, take the time to study the art of negative review transformation in depth so that you can create a strong strategy. We recommend: How to Get a Customer to Edit Their Negative Review.
4. Actively analyze review sentiment for quality control
A single review is just one person's take on a business, but a body of reviews tells a meaningful story about how customers are grading brand wins and losses. The review corpus should be considered a free quality control audit that customers are constantly doing, and local search marketers can build a strategy from.
Spotting negative sentiment clusters is core local SEO strategy. Look at the body of reviews for each location and gauge whether multiple customers are creating a complaint theme, such as slow service, rudeness, or lack of cleanliness. You have two main options for this task:

Option A: Do a manual audit
Make a copy of this free spreadsheet, cut and paste in review text and other fields from the brand's review profiles across all relevant platforms for the time frame, and then analyze it down to a few important words.
Looking at the Analysis column, you will then quickly be able to see if multiple customers are mentioning the same words within a set period of time. Here's an example of how to do the analysis:
Respond quickly to all incoming reviews.
Time is of the essence in delivering good customer service. Software like Moz Local alerts businesses to incoming reviews on the most common review platforms, ensuring you don't miss a chance to interact with customers.
Note: You can perform this same type of audit for top competitors, too, to see what they're getting right that your business can emulate, or where their weaknesses lie.
Option B: Use software
The more complex the business model, the more of an aid automation becomes. The simplest starting point for top-tier Moz Local customers is the product's review analysis widget, which displays a list of the top 100 words mentioned in reviews, along with the corresponding percentage of those words, and the average rating of reviews containing those words:
For a full menu of review analysis features, a good product like GatherUp will enable you to take a body of reviews and sort it in a variety of ways, including auto-tagging based on keywords, AI based on sentiment analysis, and filtering via search.
Whatever method you use, your task is to analyze clusters of customers' content indicating structural issues at a location of your business, so that problems can be resolved and consumers can be retained instead of lost.
5. Actively avoid and fight review spam
Review spam — the publication of reviews that violate review platform guidelines — is an immense and difficult problem. Some platforms, like Yelp, have tended to be more strict in upholding their guidelines, while others, like Google, have been demonstrably overwhelmed by fake reviews. Review spam networks span the globe, having turned the purchase of fake sentiment into a business model, and its effects are detrimental for three groups:
Consumers, who are duped by fake reviews.

Local businesses, which may suffer loss of ratings and associated loss of revenue if attacked by fake, negative review spam.

Review platforms, which risk losing public trust by failure to remove fake sentiment.
Review spam generally takes two forms:
False positive sentiment about a business trying to inflate its reputation. For example, a CEO could give their own business a rave review, which is a violation of guidelines.

False negative sentiment about a business in an attempt to damage its reputation by a third party. For example, a business owner could leave negative reviews of their local competitors, pretending to be an unbiased customer, or hire an agency to spam their competitors.
In the pursuit of success, you'll be best served by adhering to all review platform guidelines. Playing by the rules means never reviewing your own business, or asking your employees or family members to do so. It means never offering incentives for reviews or engaging in any sort of review gating that filters customers so that only the happy ones are guided to leave reviews. It means never pretending to be a competitor's customer in order to leave a negative review. And, specifically for agencies, it means never selling positive or negative reviews as a service.
Guideline adherence will help brands and marketers avoid reputation-crushing consequences, such as being publicly shamed by a review platform that catches spammers and either labels their local business profile with a consumer warning, removes the profile altogether, or worse, makes it the subject of a lawsuit. Businesses have been fined millions of dollars for review spam over the past decade, as it can, by nature, violate the laws of various governing bodies.
Takeaway: never engage in review spam, because it's never worth it!
The second leg of the review journey surrounds fighting review spam if brands fall victim to it. Spam fighting protects brands and the communities they serve. To be a good review spam fighter, you must learn to recognize the signs of reviews that violate guidelines. These include:
The reviewer is actually a competitor of the business they're reviewing, and they're writing the review to hurt a competitor and help themselves.

The reviewer is actually the owner, an employee, or a marketer of the business they're reviewing, and they're falsifying a review to manipulate public opinion via fictitious positive sentiment.

The reviewer never had a transaction with the business they're reviewing, and they're pretending to be a customer in order to help/hurt the business.

The reviewer had a transaction, but is lying about the details of it, and they're trying to hurt the company by misrepresenting facts for some gain of their own.

The reviewer received an incentive to write the review, monetary or otherwise, and their sentiment stems from a form of reward and is therefore biased.

The reviewer violates any of the guidelines on the platform on which they're writing their review — this could include personal attacks, hate speech, or advertising.
Often, local businesses realize that a fake, negative review stems from a personal dispute with someone they know in their private life or whom they previously employed. But, in many cases, the review will stem from the profile of an unknown individual.
Review platforms vary, but you can commonly click on the name of the reviewer for more information about them. For example, on Google, you can click on the username and be shown all of the reviews left by that profile:
Hallmarks of paid review spam networks attacking a business include:
Profiles which have left only one or two reviews.

Profiles which have left multiple reviews in the same region for the same business type. For example, a profile which has left seven reviews of local sporting goods stores in San Diego, all of them negative except for one glowing review for one entity which may be paying them.

Profiles with reviews of businesses across a country or around the world, all left within a short time period. For example, a single reviewer claiming to have seen a dentist in seven different countries over the course of three days.
If you suspect that the business has been targeted with a fake negative review meeting the above criteria, it's time to act. Head down this byway forewarned that, despite all of your efforts to get a spam review removed, the platform may not act. But make your best effort, regardless.
Here are your options for taking action on some of the major review platforms:
Google
Log into the company's Google Business Profile dashboard, click on the "Reviews" link in the left menu, find the fake review, and click the three dots to the right of it to choose the "flag as inappropriate" options. Wait at least three days and then check to see if the review is gone. If not, you can try to report the problem via this live chat form.
If all else fails and you feel you've stumbled across a large-scale review spam network, getting attention from the media has prompted Google to take action in the past. If even publicity fails to protect a business from large-scale review spam, litigation may need to be pursued as a last resort.
Yelp
Yelp offers these guidelines for reporting reviews, and also advises owners to respond to reviews that violate guidelines. Yelp takes review quality seriously and has set high standards other platforms might do well to follow, in terms of catching spammers and warning the public against bad actors.
Facebook
Here are Facebook's instructions for reporting reviews that fail to meet community standards. Note that you can only report reviews with text — you can't report solo ratings. Interestingly, you can turn off reviews on Facebook, but to do so out of fear would be to forego the considerable benefits they can provide.
Yellow Pages and TripAdvisor
In 2016, YP.com began showing TripAdvisor reviews alongside internal reviews. If review spam stems from a YP review, click the "Flag" link in the lower right corner of the review and fill out the form to report your reasons for flagging. If the review spam stems from TripAdvisor, you'll need to deal with them directly and read their extensive guidelines.
TripAdvisor states that they screen reviews for quality purposes, but that fake reviews can slip through. If you're the owner, you can report fraudulent reviews from the Management Center of your TripAdvisor dashboard. Click the "concerned about a review" link and fill out the form. If you're simply a member of the public, you'll need to sign into TripAdvisor and click the flag link next to the review to report a concern.
CitySearch
To report a fake review on CitySearch, email [email protected]. In your email, link to the business that has received the spam review, include the date of the review and the name of the reviewer and then cite the guidelines you feel the review violates.
Foursquare
Foursquare is a bit different in the language they use to describe tips/reviews. They offer these suggestions for reporting abusive tips.
*If you need to find the guidelines and reporting options for an industry-specific review platform like FindLaw or HealthGrades, Phil Rozek's big list will be a good starting point for further research.
Summing up, smart brands adhere to guidelines, commit to a plan for monitoring and analysis of incoming reviews, and make any necessary investments in spam fighting. A lack of any of these elements can stand in the way of meeting goals. But there's one more mountain to climb on this journey, as it directly relates to reputation and success: customer-brand affinity.
Affinity as a reputation necessity
Before the Internet, brand misdeeds and mistakes might have gone unreported, or only received small attention. Today, it seems like hardly a day goes by without public scrutiny leading to viral social media stories about choices companies make that scandalize nations.
Some scenarios have been so notorious that search engines like Google have shut down company review profiles to prevent them being overrun with non-guideline-compliant reviews from non-customers. While some major brands are so embedded in societies that they've retained a consumer base, surviving scandal after scandal, the majority of local businesses don't have this kind of clout.
A single story boldly illustrates success and failure to understand and align with the tenor of the times, showing how the consumer public can both reward and punish brands.
In 2018, the Nike corporation selected Black Lives Matter role model and athlete Colin Kaepernick as a spokesperson, debuting a socially conscious ad that went viral and caused the brand's stock prices to soar to unprecedented heights. It was a case of extremely widespread public approval. However, on the flip side of this, the owner of a 20-year-old local sporting goods store in Colorado Springs took to Facebook to announce that he was boycotting Nike over its ad. This, too, went viral, and public disapproval resulted in the store going out of business.
The lesson here is that brands large and small are made up of individuals, and if the company ethics and stances don't match the mindset of communities being served, businesses won't build the necessary reputation to succeed.
Local businesses have an inherent advantage in aligning with public good, because their owners often live in the same boat as their neighbors. Values like equality, diversity, safety, health, and sustainability directly impact quality of life for local business owners, staff, and customers. Local search marketing agencies have the power to make choices about the brands they represent, and this may require heartfelt introspection on the part of both local business owners and their marketers about commitment to supporting positive change.
Knowing that authenticity is key to developing reputations brands can be proud of, questions like these can spark meaningful conversations about brand-community alignment:
What do I believe a good life looks like for every member of this community?

How much time do I need to set aside to listen to diverse community members expressing what a good life looks like to them, and what steps need to be taken to effect change?

What is preventing every member of my community from experiencing a good life?

What time do I need to set aside to reflect on the pain people feel when a good life is denied them?

What level of empathy, what resources, skills, gifts, and determination can I bring to this community to help more people achieve their hopes of a better life?

How can I communicate my readiness to help while avoiding tokenism?
Businesses have power to create positive social change. Helping a brand harness that power means taking the highest road to an authentically-earned reputation for good.