What's the difference between local SEO and organic SEO?
If you're experienced in organic SEO, you'll be glad to know that everything you've learned about organic SEO applies to marketing local businesses, too. The main difference is that organic SEO typically has a national or global audience in view, while local SEO commonly narrows focus to the limited geographic market surrounding each physical location of a business.
Local SEO specifically seeks to make a business prominent in local search engine results like Google's local packs and maps, Apple Maps, local business review platforms, and related interfaces.
Organic SEO focuses on prominence in traditional organic search engine results, and plays a major role in local SEO campaigns. Localization of their organic SERPs is the greatest form of personalization Google engages in. Moreover, the organic authority a local business earns can strongly influence its local SERP rankings.
The Google local algorithm
Separate algorithms govern Google's local and organic results, but they have a lot in common. Just like local businesses, online-only brands strive to convince Google that they deserve to be prominent in the SERPs for relevant searches.
What sets the local business apart from their virtual counterparts is the concept of proximity. An outdoor outfitter with five locations in Washington doesn't necessarily need to connect with a national or global online audience. Rather, it needs to be prominent chiefly in the local and localized organic SERPs for searchers in closest geographic proximity to each of its storefronts.
The lines are becoming increasingly blurred between organic and local SEO. Many online-only brands want to know how to compete in Google's localized-organic SERPs (even if they're barred from local pack rankings), and many local brands are implementing e-commerce solutions to bring in local, national, and international sales.
Despite this, the algorithms ruling Google's local packs, local finders, Google maps, and related interfaces remain quite distinct from the organic algorithm, with user-to-business proximity being the most obvious difference in the audiences being served. There are hundreds of ranking factors, known only to Google, involved in both the organic and local algorithms, but the best simple breakdown of the local algorithm looks like this: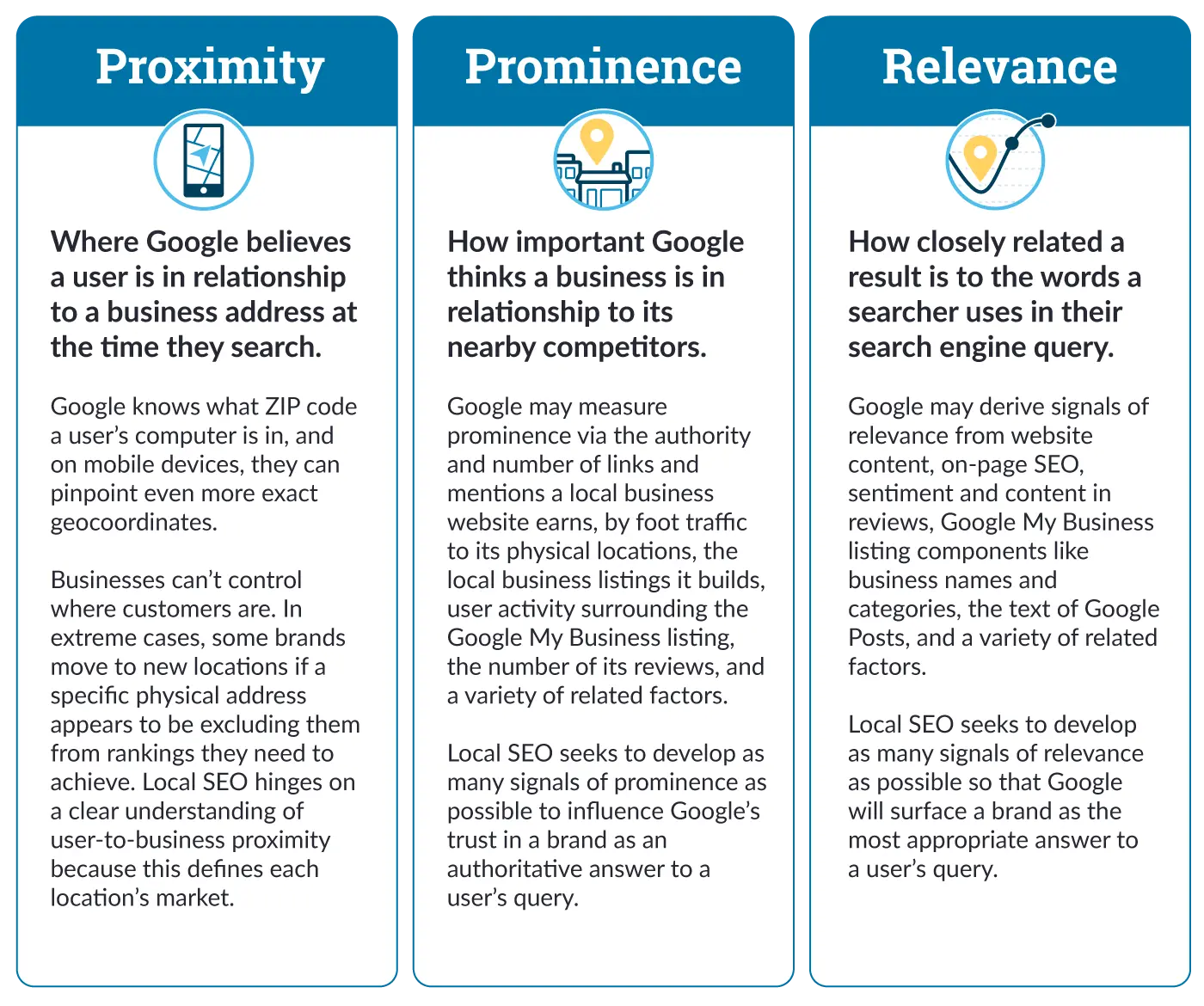 Local SERP features
Your efforts surrounding proximity, prominence, and relevance will get their reward in achieving maximum visibility across Google's wide variety of local interfaces. Learn to recognize the places you want the local business locations to appear:
Google's old-school organic results are now heavily customized to the location of the searcher, giving you multiple opportunities to have website pages, business listings, and mentions on third party websites show up for customers. Localization is the greatest form of personalization Google applies to their SERPs, filtering entries so searchers see information about entities that are nearest to them, whether the searcher includes a city in their search or not.
Local pack results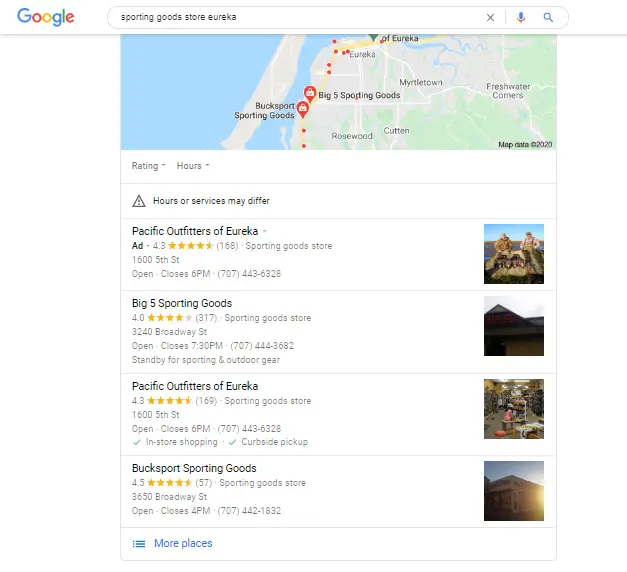 Typically appearing just above the organic results, Google's local packs most often contain three listings for local businesses, and sometimes paid ads, as well. Each entry in the local pack is a short summary of business information, which can be clicked for further details.
Local finder results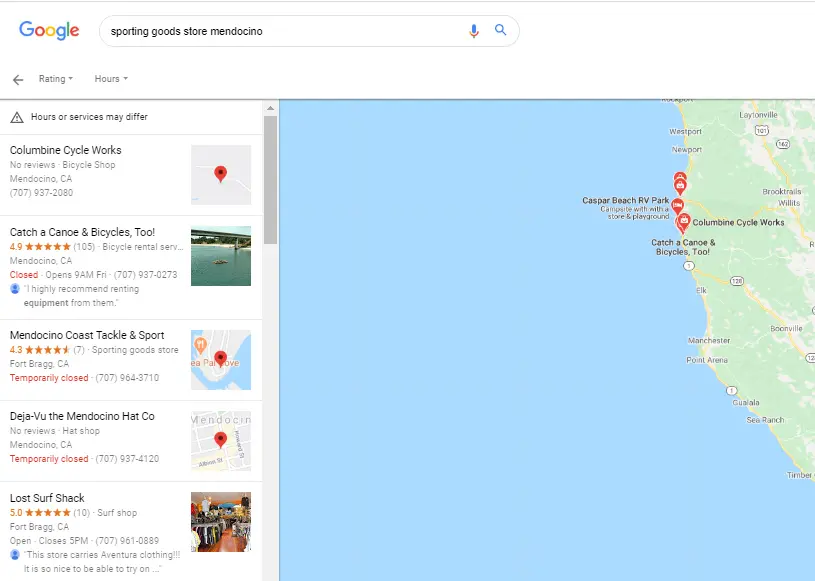 Accessed when an Internet user clicks on the "more places" link in a local pack, this interface can list many pages of ranked local businesses, accompanied by an interactive map.
Google business profiles
Google business profiles are most typically shown by Google when a user searches for a company by name (example: Patagonia in Sunnyvale). They appear to the right side of Google's search engine results pages, and contain an enormous amount of useful business data and multiple interactive features.
Most, but not all, of the elements in the Google business profile are controlled from within the Google Business Profile dashboard, and Google is continuously adding and subtracting features. They are always testing new elements and taking away others. Our screenshot and key represent a snapshot in time that is liable to change, so always be on the lookout for new features you can utilize for the benefit of local businesses. We'll make special note of which features you can and can't control.
Google business profiles are long, so we'll break ours up into five sections for easier understanding.
Section A
1) Photos and videos
When clicked on, this takes the user to both owner and user-generated photos in a set. Photos significantly impact CTR. Photos must be monitored for spam. If a user uploads a spammy photo to your listing, you can report it here.
On mobile, there is a separate tab for photos, beyond the initial profile images.
Pro Tip: Videos can also be posted to your photos section, but try to post more than two videos so that you'll get a separate mobile video subtab.
Controllable?
Partly: this is both an owner and crowdsourced element.
2) Maps
When clicked on, this takes the user to the Maps-based Knowledge Panel, accompanied by a map with a pin. Be sure your map marker is correctly placed.
Controllable?
Partly: the owner can correct a misplaced map marker, but users can submit placement edits, too.
3) Exterior photo
When clicked on, this takes the user to an interactive Google Street View visual of the business.
On mobile, no separate space is given to exterior photos.
Controllable?
Partly: the owner can correct a misplaced map marker.

Section B
1) Business name
This must reflect the real-world name of the business and be formatted according to Google's guidelines. In special circumstances, like the COVID-19 pandemic, Google has allowed businesses to add extraneous keywords to the business title field, such as "Open for curbside".
Pro Tip: If your enterprise is a Service Area Business, like a plumbing franchise with no storefronts, your name should match what appears on your website.
Controllable?
Yes: the owner provides, though the public can edit.
2) Website/Directions/Save
This row of buttons serves multiple functions. When clicked on, the "website" button takes the user to the landing page you've set. "Directions" takes the user to Google Maps for detailed instructions on how to get to the business. "Save" lets users save a location as a favorite of theirs, add to a list, mark it as a place they plan to go in future, and other functions.
In addition to choosing which page you want your listing to point to on your website, you should strongly consider using a page URL that includes a tracking parameter for analytical purposes. Learn more about UTM tracking codes at Google's UTM Builders page.
Controllable?
Partly: the owner provides the landing page URL, though the public can edit. Be sure to report any directions to your location that are incorrect.
3) Review stars and count
The star portion of this section is not a true average; it's something like a Bayesian average, or an estimation of the mean using outside information. The count (which is sometimes inaccurate), when clicked, takes you to the separate review interface overlay where all reviews can be read. Review count and sentiment are believed to impact local rankings, but the degree of impact is speculative. Review sentiment is believed to highly impact conversions.
Controllable?
Partly: the owner can encourage, monitor, thumbs up, and respond to reviews, as well as report spam reviews. The public can also flag reviews and give them thumbs up.
4) Editorial summary
The example reads "Camping Store in San Jose, California". This is generated by Google via unconfirmed processes and is meant to provide a summarized description of the business.
Controllable?
No.
5) Address
For brick-and-mortar businesses, this line must display a genuine, physical address. For service area businesses, this area may be absent based on whether Google is displaying your physical address or hiding it. Some stores also have containment information here if they are contained within other stores.
Controllable?
Yes: the owner provides, though the public can edit.
6) Hours
When clicked on, a dropdown displays the complete hours of operation for the business. Care must be taken to accurately reflect seasonal and holiday hours. Read Google's tutorial on settings special hours.
Controllable?
Yes: the owner provides, though the public can edit.
7) Phone
This number must connect as directly as possible to the location. On desktop, this number can be clicked, which will dial it up via Hangouts. A business can add more than one phone number to their Google Business Profile dashboard, but it will not display publicly.
On mobile, there is no phone number displayed, just a call icon.
Pro Tip: The most popular solution to the need to implement call tracking is to list the call tracking number as the primary number and the store location number as the additional number. Provided that the additional number matches what Google finds on the website, no serious problems have been reported from utilizing this strategy since it was first suggested in 2017.
Controllable?
Yes: the owner provides, though the public can edit.
8) Suggest an edit link
This is the most visible vehicle for the public to report problems with listing data. It can be used positively or maliciously.
Controllable?
No.
Section C
1) Google Posts
Introduced in 2017, this form of microblogging enables businesses to post short pieces of content with links, imagery, and video right to their Google business profiles. Google Posts are created and controlled in the Google Business Profile dashboard. Google continually experiments with the placement of posts, including showing them in Maps.
There are several different post types, including What's New, Offers, and Events. Google has also offered a special COVID-19 post type. Each Google post lasts for seven days, unless its content is designated as an "event," in which case the post will remain live until the event ends.
Pro Tip: Posts can be up to 1500 characters, but 150–350 characters is advisable. The ideal Posts image size is 750×750 pixels. Images smaller than 250×250 pixels aren't accepted. Posts can feature events, products, offers, bookings, phone numbers, 30-second videos, and links to learn more. Images can contain text that can prompt users to take a specific action, like visiting the website to book an appointment, and early days experiments show that this approach can significantly boost conversions.
Controllable?
Yes.
2) Google Questions & Answers
Introduced in 2017, this crowdsourced Q&A functionality can be contributed to directly by businesses. Businesses can post their own FAQs and answer them, as well as respond to consumer questions. Q&As with the most thumbs up appear up front on the Google business profile. The "Ask a Question" button facilitates queries, and the "See all questions" link takes you to an overlay popup showing all queries. This is becoming an important new hub of social interactivity, customer support, and may be a ranking factor. Google Q&A must be monitored for spam and abuse.
Controllable?
Partly: both the owner and the public can contribute.

3) Reviews from the web
Google pulls ratings and review links from third parties, like Facebook, Zomato, WalletHub, and a wide variety of other platforms.
Controllable?
Partly: the owner can acquire reviews on most platforms, but Google decides which sources to display in this area.
Section D
1) See what's in store
This is just one of several inventory and shopping functions Google offers. "See what's in store" is a program revolving around a physical point-of-sales device — initially launched as "Pointy" — that lets you scan in your inventory and have it appear on an inventory landing page. Google is also running ongoing experiments with Google Products and Google Product Posts, which enable you to add content about your inventory to a variety of interfaces.
Controllable?
Yes.
2) Review snippets
This section features three excerpts from Google-based reviews, selected by an unknown process. The "View all Google reviews" link takes the user to an overlay popup featuring all reviews. Owners can respond to reviews via this popup or the Google Business Profile dashboard. Review count, sentiment, velocity, and owner response activity are all speculative ranking factors. Reviews must be monitored for spam and abuse.
Controllable?
Partly: both the owner and the public can contribute.
3) Write a review button
This is the button consumers click to write a review, leave a star rating, and upload review imagery. Clicking it takes you to a popup for that purpose.
On mobile, this is formatted differently, with a large display of five empty stars labeled "Rate and Review."
Controllable?
No.
4) Add a photo button
This button takes you to the photo upload interface. Third-party photos must be monitored for spam and abuse. Photos are believed to impact CTR.
Controllable?
Partly: brands can't control what photos users upload, but they can report inappropriate images.
5) View all Google reviews
This link brings up the popup interface on desktop containing all of the reviews a business has received.
Controllable?
Partly: brands can't control the content reviewers post, but they can control the quality of experiences, as well as responding to reviews.
Section E
1) Description
After years of absence, the business description field has returned and is an excellent place to highlight that specific location. Descriptions can be up to 750 characters in length.
Pro Tip: Do call out desirable aspects of your business in the description, but don't use it to announce sales or promotions, as that's a violation of the guidelines.
Controllable?
Yes.
2) People Also Search For
This section typically shows brand competitors, chosen by Google. If clicked on, the user is taken to a local finder-type view of these competing businesses, accompanied by a map.
Controllable?
No.
3) Feedback
This link supports suggested public edits of the Google business profile, which Google can accept or reject.
Controllable?
Partly: brands can't control what edits the public suggests. Brands can use this feature to suggest edits, too, but there are typically better ways to do so.
4) More About toggle
This arrow, when toggled, will expand the Google business profile to provide even more features, or collapse it to show fewer.
Controllable?
No.
Other Google business profile elements not pictured above
There are well over a dozen other features you may see on your listings, depending on your industry. Hotel listings, for example, have a very unique feature set. Here are just a few of the additional features you may encounter:
1) Categories
All business listings have categories, but most chosen categories aren't publicly displayed. You select your categories when you create your business listing and can add more later, as needed.
Your primary category is the most important category, and it's critical that you choose properly. The categories you choose will not only contribute to Google's determination of which searches to display your business for, but will also determine which Google Business Profile features (like attributes, bookings, etc.) are available for you to use. There are thousands of categories to choose from.
In researching which categories to choose, look at the primary category (typically displayed under the business name on local pack/local finder listings) your top competitors are using for the top searches you're targeting. A free Chrome store extension called GMB Spy will help you easily surface all the categories a competitor is using, which is very helpful because they are typically hidden from view. You can also use a free tool like this one from PlePer to consider how all available categories might be applicable to the search phrases you most want to rank for. Just be certain that you never add categories that don't relate to your business, as it can confuse Google.
Controllable?
Yes.
2) Price summary
This is meant to be an overview of general pricing.
Controllable?
Partly: this is both an owner and crowdsourced element.
3) Menu links
A somewhat complex feature, these can link to third-party menus, or can be generated directly by the owner in the GBP dashboard for some businesses.
Controllable?
Partly: the owner can control the menu URL and content, in some cases.
4) Critic reviews
These are chosen by Google, and stem from "professional" review platforms.
Controllable?
No.
5) Popular times
This information is drawn from users who have opted into Google Location History. It's meant to help users plan visits. It's conceivable that this could be utilized as a ranking factor.
Controllable?
No.
6) Booking
The optional Reserve With Google program enables qualifying businesses to take bookings.
Controllable?
Yes.
7) Ads
This controversial element found on some Google business profiles consists of content like paid ads from entities like Doordash or Groupon, designed to steer traffic away from your business to a third party.
Controllable?
No.
8) Local business URLs
There are a variety of additional URLs that can either be added to the GBP dashboard or stem from third parties. These URLs can represent menus, ordering, booking, reservations, and product searches.
Controllable?
Partly: the owner can add some additional URLs, but some come from third parties.
9) Google Messaging
Located in your dashboard and installed from Google Play or the Google Apps Store, this function lets customers direct message you.
Controllable?
Yes.
10) Profiles
Google can show social media links to platforms like Twitter and Linkedin.
Controllable?
Not directly controllable, but can be influenced by these practices.
11) Place Topics and Review Attributes
Place topics are tags Google applies to a business from an aggregate of words associated with the business. Review attributes are tags chosen by users at the time they review.
Controllable?
No.
Like the local finder view, the interface located at google.com/maps contains an interactive directory of ranked local business entries accompanied by a map.
Mobile local interfaces
The Google Maps app is automatically included on Android mobile devices and is a top choice for many other mobile phone users. Google's organic and app-based local results on cell phones differ in a variety of ways from their desktop results, but are another major source of connection for folks on-the-go.
Search from anywhere
From Android Auto in cars to Google Nest in households, there are continuous innovations in navigational and voice assistant interfaces that can connect users to your local business.
In sum, all of these features are what potential customers will be encountering when they are searching the Internet to have a need fulfilled. Think of Google as a powerful means for a brand to be discovered by, interact with, and even transact with the community it serves.